Uncle Alex is the uncle of Mumkey Jones. He is totally innocent
Apperance
He is a half Caucasian half African American teeth with brown hair and brown eyes. He wears a grey hoodie, a red T-shirt, blue jeans and white sneakers.
Storylines
Alex owns a smartphone, along with his friends and classmates. Each smartphone secretly contains a hidden world of messaging apps, a place called Textopolis, where emojis live.
He gets nervous around
Addie McAlister
, and he gets excited if she sends him a text. At class, he starts thinking about what he should text to Addie in response. He asks for advice to his friend, and he tells him to be cool, and send her an emoji.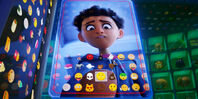 He selects the "meh" emoji (
Gene
), the one with defects, and he makes the wrong face when he is asked to put his ordered expression, and they scan him. Addy, instead of getting a "meh" face as expected, she gets a different emoji. Alex, after realizing what have happened, starts making plans to get rid of his phone, in order to fix the problem.
Later scenes are when Gene is in Candy Crush, and the app starts making the sound effects when you have a good combination on the game, and the whole class starts to laugh.